As well as supplying the log cabin kits you will find on this website, we are also experts in designing and building residential log cabins. Our business started building timber buildings as our sister company North Coast Log Cabins.
The residential log cabins featured on this site are designed to be constructed by yourself (or by our team) at your home, to add beautiful garden cabins, offices and summerhouses. Log cabins also make excellent residential buildings, homes, and commercial premises. Contact us to talk about the buildings that we design and build that comply with all residential building regulations and planning permissions.
Our Residential Log Cabins
Our residential buildings make beautiful family homes with four or more bedrooms, that can last a lifetime for you and your family. Our buildings are designed and built to your exact needs. Timber buildings are much quicker to construct the concrete or brick alternatives. They are also much kinder to the environment and much more angry efficient.
With have built many residential buildings over the years, including the Fistral, which has proved very popular with holiday accommodation as well as residential use. In 2010 we built an incredible three story, six bedroom Fistral log cabin home. This building remains one of our favourites, and family love it.
Cedar clad residential log cabin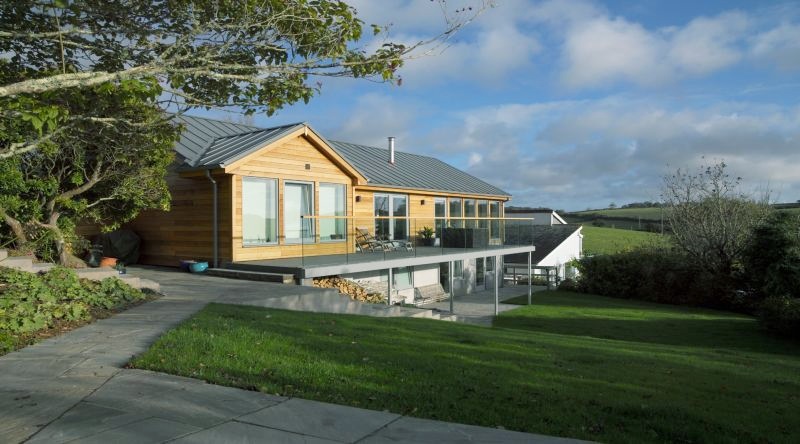 Not all of our buildings look like traditional residential log cabins. In 2015 we designed and built the beautiful cedar clad log cabin in the lovely village of Feock in Cornwall. This cabin has lots of windows allowing in light to show off the wooden interior. The glass balustrade gives a safe position to admire the incredible views. This is a fantastic family home that will last a lifetime.
Mobile homes
If you already have a caravan or temporary building with the appropriate planning permission, you might be able to replace that build with one of our mobile homes. These specially designed units comply with temporary building planning permission, and yet are gorgeous log cabin buildings.